The Founding
The company was founded in May 1991 by Karl Brügger and another partner under the name of Brügger & Thomet Feintechnik in the town of Spiez situated on Lake Thun in Switzerland. After some years, Karl bought out his partner and is now the sole owner. The first products the B&T produced in these days were a line of firearm suppressors for the domestic Swiss market. The suppressor has a long history in Switzerland as these have been used for sport shooting going back into the late 1800's.
Manufacturer and trade business
From the beginning B&T was fully licensed by the Swiss government for the sales, importation and manufacturing of small arms for police and the public authorities. From this modest beginning, the company developed a trading business which, in addition to small arms, today also includes a full line of brand name products that any service may require. This includes Kahles optics, Aimpoint Red Dot sights, Fiocchi ammunition, Simunition FX munition, 5.11 and Carinthia clothing plus various public order and protection products.
Specialist for mounts
During this same period, the company also expanded its product offering to include optic mounts and other tactical accessories for service weapons. These were items such as tactical rail handguards, handgrips, buttstocks and many other items demanded by the customer.
Government business: everything from one source, everything fits
From the very beginning, B&T has concentrated on the public authority and professional business.  This extended to expanding its range of products and to offer what is probably the most complete range of products for professional users. "Everything from one source, everything fits and everything works the ways it should". Integration – This has been one of the main ingredients in the B&T recipe for success.
B&T as a Brand Partner
B&T enjoys great popularity as a producer for many other well-known firearm producers in Europe and North America. It is common to find a B&T suppressor on products from Accuracy International, Beretta, C. G. Haenel, CZ, FN Herstal, Glock, Heckler & Koch, Merkel and SIG.
BT96 – the first firearm product
In 1996, B&T produced its own variant of the well-known MP5. It was called the BT96, a semi automatic carbine, and can still be found in the hands of many sport shooters. It can be identified by the grey coating and modified front sight hood.
Relocation to Thun
In 1997 B&T is converted into a public limited company under Swiss law. In 2004 Karl Brügger becomes sole owner of the company and moves into a factory building in the neighboring town of Thun, by chance home of the Swiss Army Panzerschule and NCO school. It is not uncommon at B&T to hear the sharp report of tank gunnery and machine guns at the range just a kilometer away.

Machine pistol MP9 / TP9
In 2001 the company acquires all drawings, patents, toolings, and design rights for the Steyr Mannlicher TMP (Taktische Maschinenpistole) also known as the SPP (Special Purpose Pistol). After making over 30 different engineering and design changes the pistol was re-introduced to the market in 2004 as the MP9 /TP9.
ISO 9001
B&T is certified with the international quality management standard ISO 9001:2000. ISO 9001 is a globally recognized standard that defines requirements for effective quality management in a company.

Precision Rifle APR
The APR (Advanced Precision Rifle) B&T is introduced as a family of medium and long range sniper rifles for police and military use, available in .308 Win. and .338 Lapua Magnum calibers.

Less Lethal Launcher GL06
In 2006 there was an urgent need issued by the French National Police for a dedicated 40 mm less lethal launcher. B&T was quick off the mark and developed the GL06 Less Lethal Launcher. This very safe and very accurate design was developed as an alternative to the dangerous and imprecise rubber balls fired from 12 gauge shotguns and other smooth bore weapons. At the same period B&T developed the SIR (Safe Impact Munition) in caliber 40×46 mm to be used in conjunction with the GL06, thus completing the most accurate and safe Less Lethal Launcher in service today. This offering also includes a very economic training system which is considered a must for any law enforcement agency deploying any impact munition system.

Precision rifle SPR300
The SPR300 was developed at a request of several European special operations teams that were tasked to work in urban environments. The requirement was to have the most accurate and most quiet rifle for engagement ranges out to 125 meters. This is typical for urban operations. The ammunition chosen for this was the new .300 Whisper / .300 Blackout caliber. The weapon is not a replacement for any .308 weapon but is seen as a new tool in the inventory of a constantly changing security environment. Brügger & Thomet becomes B&T
In April 2011 Brügger & Thomet AG changes its name and logo to B&T AG as the company and its products become better known outside Europe.

APC (Advanced Police Carbine)
The APC product line was introduce not merely as a firearm product but as a complete weapon system. This system is comprised of a platform for many different calibers, 9 x 19 mm, .40 S&W cal., 10 mm, 5.56 mm, .223, .300 BlK, .308 Win and even 9 mm FX. The various systems share over 50% commonality of spare parts and identical ergonomics and handling thus saving the agency valuable budget on both training and the inventory of spare parts.
The latest 9mm version will also accept the magazines of either the Glock or SIG 320/M17 pistol.
New construction of the company building
B&T AG erects a 5,000 sq. meter new building opposite the existing company headquarters.
Flagship store in Thun
The first B&T AG store opens in Thun, in the Canton of Bern near the company headquarters.

Veterinary pistol VP9
The VP9 Pistol is introduced. A very unique suppressed 9mm pistol designed for use by veterinarians and hunters for the safe and humane dispatch of wounded or sick animals.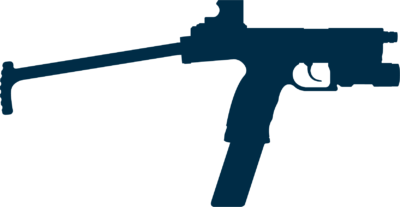 USW – Universal Service Weapon
The USW (Universal Service Weapon) is a direct response to the Charles Hebdo terrorist attacks in France. The USW is unique product that will enable the shooter to effectively engage targets with a pistol sized weapon out to 100 meters, well beyond normal handgun ranges. It is delivered with an Aimpoint Red Dot sight and tactical light. B&T also upgrades other service pistols to this type of configuration.
ISO 14001
Since May 2016, B&T AG becomes certified according to ISO 14001 (environmental management). The company is committed to environmental protection and the careful use of natural resources.
Flagship store in Zurich
After the success in Thun, B&T AG's opens a second store in Switzerland in Wallisellen near Zurich and becomes an instant success for Police, hunters and sport shooters.
APC9 wins US Army APC9K Contract
B&T is granted the award for the US Army's new SCW – Sub Compact Weapon, a compact version of the APC. This is a historical event as it is the first time the US Army has adopted a sub-machine gun since 1943 when it adopted the M3 Grease Gun!
B&T in the year 2020
B&T maintains its own quality assurance program and has three separate test ranges at the company headquarters. The core competence of the company is the fast and focused reaction to customer requirements from rapid prototyping to just-in-time production. An ultra-modern and broad-based CNC machine park enables precise and flexible production.